Award Category: Best Initiative (For Children with Special Needs [CWSN])
Introduction: Subha Chandrashekhar is a Special Educator, Rehabilitation Practitioner, and founder of Anugraham
Achievement: Worked with grass-root level teachers & policymakers during the pandemic for CWSN and founded Anugraham for larger impact
The education sector is undergoing a revolution and it is important that 21st century India gears up to fulfill the Sustainable Development Goal of inclusive education. To do so, Subha Chandrashekhar, registered Rehabilitation Practitioner and Special Educator has founded Anugraham to empower students, teachers, and parents by nurturing and providing them with skills of the 21st century. She has been a leader in initiating inclusive educational programs in mainstream schools to ensure that no child is left behind.
Outreach during the Pandemic
During the pandemic, Subha worked with grass-root level teachers and Special Educators of Assam, West Bengal, and Jharkhand to ensure that the quality of services for children with special needs remained in sync with the Rights of Persons with Disabilities Act (RPWD Act, India 2016). She conducted training programs on the relevance, effectiveness, and sustainability of inclusive education programs at district levels. She also conducted capacity-building programs for Policymakers, School Leaders, General Education Teachers, Special Educators, and parents by helping them to make online classes accessible for the CWSN. She also provided consultancy to different National Institutes and Non-Governmental Organizations for training Special Educators on inclusive strategies and flexible curricula.
Acceptance, Empathy, Inclusion at ANUGRAHAM
In her current role, Subha Chandrashekhar is the Founder-Director of 'ANUGRAHAM', an initiative meant to spread awareness and empathy towards the acceptance of specially-abled students. Through capacity-building programs, Anugraham aims to empower Special Educators, general educators, and parents. Subha is collaborating between general education teachers and special educators for all children.
Anugraham seeks to empower teachers by nurturing and providing them with skills to teach the students of the 21st century. Flexibility and pace are what students want and it's critical we adapt to their needs and facilitate lifelong learning.
Click Here to reach the Official Website of ANUGRAHAM
Achievement
Subha Chandrashekhar won the Global Teacher Grants competition 2021 -2022, sponsored by the US Department of State's Bureau of Educational and Cultural Affairs (ECA). She has been working for over 26 years in the field of inclusive education as a Special Educator & Rehabilitation Practitioner working with cross-disability categories of Children with Special Needs (CWSN) including children with Intellectual Disabilities, Specific Learning Disabilities, Autism, Hearing Impairment, Visual Impairment, Locomotor Disabilities and Emotional Disturbances from Pre-Primary, Primary, Secondary and Higher-Secondary classes.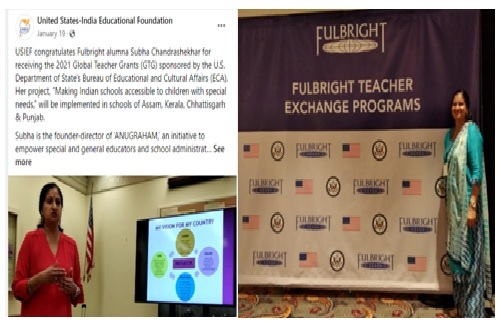 Click Here to Check Awards and Certificates Document
Also, she gives counselling to students of classes IV onwards on Life skills and specific individual problems. She not only provides counselling to students but also provides counselling and guidance to teachers and parents of students from Nursery to Class XII.
Click Here for Fulbright USIEF Teacher Alumni Award – Grant Award Document
Subha Chandrashekhar is a finalist for Best Initiative (For Children with Special Needs [CWSN]) Because…she has worked extensively with grass-roots level teachers, policymakers, and school leaders for the betterment of CWSN and throughAnugraham, is continuing her work for larger impact. Her project also focuses on enhancing learning opportunities for children with disabilities by promoting a rights-based approach to inclusive education.
To Reach the Information Dossier Shared by Subha Chandrashekhar Click Here.