Award Category:

Best Initiative (Edutainment – Making Learning Fun)

Introduction:

Kishore Kumar Yedam is the CEO of Federal Soft Systems Inc.

Achievement:

Established The Talking Tree - an AI-based Interactive robot, and Magik Mat - an indoor playing platform.
"Learning should always be fun, not a dreaded task." Kishore Kumar Yedam, lives by this principle and tries to achieve it through his products - My Talking Tree and Magik Mat. My Talking Tree is an interactive robot, which is developed based on Artificial Intelligence, to engage with kids and bring them closer to nature. Magik Mat is an indoor playing mat or platform for kids to play on and learn with interactive physical activities. These products are designed for children in the pre-nursery to grade 5th.
My Talking Tree - Robotics Tree For Teaching Your Kids In A Fun Way
This is an AI-based technology for helping kids to learn in a much better way with an interactive robotic tree - Mr Dudu - which aims to ignite a love for learning. Mr Dudu is a technology envisioned to be a part of every kid's learning process in schools. The children will engage with the interactive robot, and get inspired, educated and entertained. They would be able to relate and connect with various topics, making them love the process of learning, which is essentially the objective - to help children fall in love with their education.
Click Here to Read More About Kishore Kumar's Interactive Robot My Talking Tree
Magik Mat
Magik Mat is a unique indoor playing platform designed for learning for children aged 2 to 10 years. It is a tool to provide maximum relaxation and flexibility to the minds and bodies of the children through interactive physical activities. Using Magik Mat, students can learn subjects like language arts, math, and science. Incorporating the principles of action, engagement, and representation, it provides students with an opportunity to unlock the wonder of education by proactively removing learning barriers and immersing kids in a virtual academy where they can learn, discover, and play.
Click Here to See More About Magik Mat
Visit the Magik Mat website here.
Achievements
In 2022, both Talking Tree and Magik Mat were presented the Brand of the Year Award by The CEO Story.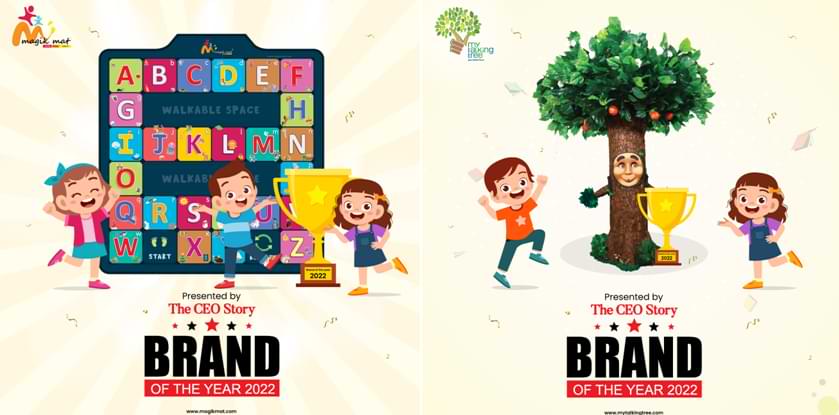 Check out more about Rahul's platforms here.
Kishore Kumar Yedam is a finalist for Best Initiative (Edutainment – Making Learning Fun) because of his unique initiatives My Talking Tree and Magik Mat, which incorporate AI-based interactive technology with fun-based learning for young learners from ages 2 to 10.