Award Category:

Outstanding Educational Leader

Introduction:

Deepti Sharma is the Principal of Pragyan Public School, Jewar

Achievement:

Fostering an environment of inclusivity and quality education for holistic development of her students.
Introduction
Having 22 years of experience in teaching, administration and management of school activities Ms Deepti Sharma is the school Principal of Pragyan Public School, Jewar, Uttar Pradesh, where she is currently managing over 150 teaching staff, 50 non-teaching staff, and students of various ages from Nursery to 12th grade. Under her dynamic leadership and vision, the school has undergone profitable budgeting without losing its safe and healthy environment.
Additionally, she is also the President of Sahodaya School Complex NCR (East) under which 75 schools are associated from Distt-Gautam Budh Nagar & Distt-Bulandshahr, a Nominated Member of The National Council for excellence and exemplary work in strengthening the Education Ecosystem by AIP (Association of Indian Principals) and District Vice President of School Sports Association, Gautam Buddh Nagar.
Quality Education
Situated in a rural area, without the best of resources, the retention of quality education and development of the institution - Pragyan Public School, Jewar - was tricky. Nonetheless, Ms Deepti managed to ensure that the staff and students of her school receive quality education and best resources at every level. As a result of her continuous efforts, her students have achieved and showcased their excellence in several curricular and co-curricular activities.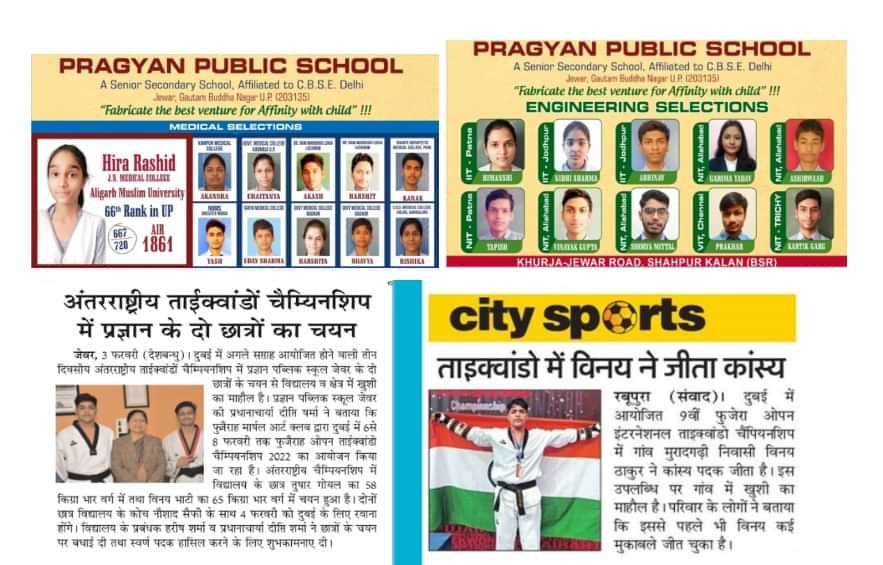 ATL and Intel Lab
Digitalization and Technology have been excellently incorporated into her school.
Under the leadership of Ms Deepti, Atal Tinkering Lab and Intel lab have been set up in the school with the aim to provide students with a space where they can explore, innovate and think out of the box to create something new.
Click to see glimpses of ATL at Pragyan Public School.
Pilot Safal Project
Pragyan School has been chosen to participate in the "Pilot Safal Project," which strives to ensure continuous progress throughout the students' academic years by providing diagnostic information about their learning. The school also conducts career guidance programs to promote the overall development of students. As a result, the school's alumni today hold prominent positions in their respective careers.
Awards and Recognition
She has been Awarded as

"Most Updated Principal"

by Education Excellence Conclave 2021 presented by The Hindu, organised by EKK UPDESH and sponsored by the Ministry of Ayush, Digital India and Skill India.

She has received

Naari Sahansi Samman Award

for her contribution to Nation Building by the Yuva Soch Bharat Research Association in 2021.

She is also the recipient of the

Sir CV Raman Award 2018

for Neoteric Innovators to applied Physics by Re-Think India.

Under her leadership, her

school was listed in

Top Schools of India Ranking 2017 for Digital Learning

by the 6

th

school leadership summit in New Delhi.

In addition, she has also authored two books namely,

Trends in Inclusive Education

and

Soft Skills for Students.

She has also been appointed by CBSE as an

Observer

for various examinations like AIEEE, NEET & CTET, and C.B.S.E. EXAM for various places like Jaipur, Ajmer, Varanasi, Delhi, and Greater Noida.

Ms Deepti Sharma was selected to be a part of a programme for

Master Trainers (Maths 6-8)

organised by CBSE in Collaboration with the British Council and Cambridge Partnerships for Education & Got Training as a Master Trainer in April 2021

As a

Master Trainer

, Ms Deepti has conducted about 160 workshops

with Center of Excellence (CBSE) - COE Noida, COE Dehradun, COE Gurugram, COE Allahabad (Prayagraj), COE Delhi West & COE Delhi East on topics such as

Capacity Building Program on Life Skills, Gender Sensitivity, Classroom Management, Career Guidance, Remodeling of Assessment, Teaching of Mathematics and also private workshops on Motivation, Induction and Curriculum Development, Leadership, Teaching Strategies, CCE, POCSO, SWOT analysis and Motivation & Career Counseling.
Click Here to See Glimpses of Deepti's Achievements
Deepti Sharma is a finalist for the Outstanding Educational Leader award because of her determination towards helping her students and institution achieve excellence through continuous quality education and holistic development despite challenges.
Click Here to See All the Information Shared by Deepti