Award Category:

Outstanding Educational Leader

Introduction:

Head of the

Blossoms School & Gyanoday NGO, Meerut

Achievement:

Established Gyanoday NGO with the aim of improving literacy levels of economically weaker and underprivileged children to provide them a better life .
Avinash Singh Alag started his journey as an Educator by establishing Blossoms School in Meerut in 1996. While Blossoms School became known for its focus on holistic human development, he realised that the fruits of all-round education were restricted to a privileged few. His desire to break this exclusivity led him to expand his focus to street and slum dwelling children and young adults who had never seen and been inside the walls of a school.
After understanding the context of their socio-economic marginalization through a self-funded study, he founded the NGO, Gyanoday, with the objective of taking school to children who cannot afford and access mainstream education. Today, Avinash is a youth transformation coach, mentor, counselor, motivational speaker, educator, and the head of Blossoms School and Gyanoday NGO at Meerut, Uttar Pradesh.
Gyanoday
Gyanoday operates with the vision "To Help India Realize Its Demographic Dividend Potential", mainly through education. The mission is dedicated to inspiring and aiding underprivileged children in obtaining education and acquiring the necessary skills to support themselves, lead healthy lives with dignity and awareness. The organization was set up in Meerut in 2001. Today, there are 15 centers of Gyanoday at Meerut, Dehradun and Delhi.
How Gyanoday Uplifts The Underprivileged?
Gyanoday offers four levels of learning, including Elementary, Advanced Elementary, Scholarships to Formal Schools, and Vocational Training.

The programs, primarily located in slums, follow a

4H Formula

- Head: cognitive, Heart: affective, Hands: social and Health: physical development - to provide a comprehensive and engaging learning experience for children.

These programs are focused on providing children with access to education in reading, writing, math, communication skills, and moral and social values. These provide ample learning and growing opportunities to the students.

The teachers at Gyanoday are from the same locality as the students, allowing them to better understand the needs of the children they serve.

The teachers are provided regular training and orientation programs for the smooth functioning of the program.

Regular classes are conducted for two to three hours, six days a week.
Additionally, Gyanoday also emphasizes the importance of health, hygiene, environment, and strives to keep children away from negative influences such as crime and drug use. The programs promote sports and games for children to enjoy and supports motivated children by sponsoring their education in formal schools through scholarships. Furthermore, the program empowers children and their parents by providing vocational training and other means of livelihood generation.
Click here to reach the Project Report of Gyanoday
Impact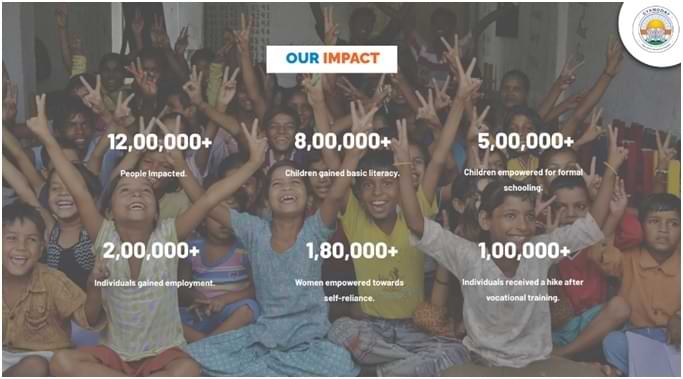 Avinash's persistent efforts through Gyanoday's four-dimensional intervention i.e, Vatikas, Scholarships, Vocational Training, and Career and Livelihood programs, have increased the probability of engaging in income-generating endeavors of the involved individuals.

The availability of education and vocational training has enabled individuals to achieve financial stability and autonomy, resulting in a decrease in susceptibility to hardship and the likelihood of returning to impoverished circumstances.

Those who have participated in Gyanoday's initiatives have demonstrated that they are capable of saving their earnings to enhance their quality of life, pursue future professional objectives, and address family emergencies.

In the direction of Women Empowerment and Gender Justice, Women have received employment in well-established firms, using the certificate courses organized by Gyanoday's Vocational Training Centres and even started their own business ventures as tailors, makeup artists and mehendi artists.

During the Covid-19 induced lockdowns, Avinash played a pivotal role in extending socio-economic assistance to slum dwellers and daily wage earners in both urban and rural areas across Uttar Pradesh, Uttarakhand, and Delhi. His contributions included launching the 'School on Wheels' initiative on August 19, 2020, to provide education to children residing in rural and urban slums who were adversely affected by the digital divide, distributing food relief, and providing medical kits for the prevention and treatment of Covid-19. In terms of quantity, a total of 6,947,200 meals were distributed to 32,232 families in 145 locations during the first lockdown in 2020 and for 101 days, and for 60 days during the second lockdown in 2021. The Covid-19 relief initiative undertaken by Avinash via Gyanoday benefitted over 5,62,302 individuals in total.
Click here to read testimonies of various Gyanoday beneficiaries
Awards and Recognition
Avinash's contributions have earned him numerous accolades and recognition.
Sri Ram Washeshwaran Devi Bhatia Memorial Charitable Trust's National Award for 'Social Work' (2005) by Justice Anil Dev Singh

Media Trust Of India's 'The Master Of Wisdom' Award for 'Rendering Distinguished Services In The Field Of Education And Upliftment Of The Less Privileged' (2008) by His Holiness Sri Sri Ravi Shankar

Shaheed Veer Abdul Hameed 'Shaan-E-Meerut Award'(2017); 'Setu Rattan' for Distinguished Work In The Field Of Social Upliftment (2019)

India's Education Excellence Award, Mumbai, Confederation Of Excellence In Education , New Delhi

Founder Principal Award at the International Education Conclave and Award Ceremony 2022, Icon Of Asia Award 2022, Aaryam International Prize 2022.
Click here to see the media reports and awards presented to Shri Avinash
Avinash Singh Alag is a finalist for Outstanding Educational Leader Award because of his persistent efforts towards uplifting the lives of those from the underprivileged backgrounds through education and upskilling.
Click here to See All Information Shared by Avinash Singh Alag